Why VictoriasSecret.com E-Gift Cards Suck
On the 14th of March I logged in at victoriassecret.com to purchase an E-Gift Card for someone. The checkout system needed to know who I wanted to send the email to. Since it was a birthday gift, I didn't want them to get it ahead of time. I was also concerned that they may never receive it at their Yahoo email address. So, I used my email address because I knew I'd get it since I have never had an issue receiving email from victoriassecret.com in the past.

The next day, the email for the E-Gift card was still not in my inbox. I emailed them a reply to my order confirmation email and this is what I got back:

Dear Angela,

Thank you for your e-mail regarding Victoria's Secret web site. We apologize for any inconvenience.

Unfortunately, based on the information provided, we are unable to determine the nature of the problem you experienced.

In order to properly address your concerns, may we suggest directly contacting an Internet Services representative at 1-800-970-1109.

If you need further assistance, please reply to this e-mail or call anytime.

Victoria's Secret is committed to providing an exceptional experience for our customers. Angela, we look forward to the opportunity of serving you in the future.

Sincerely,
[Rep Name Omitted]
VictoriasSecret.com Customer Service

Not enough info? I provided my entire order confirmation email. So I emailed them again at about 7pm on the 15th:

What more information do you need? You have the confirmation number.

I shouldn't have to call. You should be able to send me the Egift Card information again.

I'm guessing that the fact that I had the email with the ECard sent to me was confusing to you perhaps? I had it sent to myself [email was here] because I didn't want to risk my friend [name was here] not getting it in her email and I'd have no easy means to get it resolved if that happened. (I also don't want to give out her email address.)

So please let me know what I need to do to get the eGift card information.

Thanks,
~Angela
Still no E-gift card in my inbox. Instead I get this lovely reply at about 10:30pm on the 15th:

Dear Angela,

Thank you for your e-mail regarding the EGift card that was not received. We apologize for any inconvenience.

We have resent the EGift Card. If you have not received the EGift card within 24 hours, we suggest checking their SPAM or junk e-mail folder.

You can check the status of your orders, backorder, returns and exchanges at any time on our web site. Please click on the link below, or 'copy and paste' the URL into your browser.

http://www2.victoriassecret.com/html/custsrvc/orderstatus/

If you need further assistance, please reply to this e-mail or call anytime.

Victoria's Secret is committed to providing an exceptional experience for our customers. Angela, we look forward to the opportunity of serving you in the future.

Sincerely,
[Rep Name Omitted]
VictoriasSecret.com Customer Service
I'd already looked up my order history to see if I could glean anything from that. Nope, nothing. I couldn't see what email address I'd put into the form at checkout or any of the recipient's details. Had I misspelled my own email address? Entirely possible. I emailed them again at about 8:30pm on the 16th:

Hello Julie,

I still have not received the EGift Card. :-(

*I* am the one who should be getting the email; it is to the same email address as I'm writing to you.

I have victoriassecret.com white-listed; it does not go into a spam folder.

Clearly I get email fine from victoriassecret.com or I would not have gotten your reply nor would I have gotten the order confirmation.

So, what can be done to get the email? Can you save it as a PDF and email me the attachment?

Thanks,
~Angela
Hoping for the best I waited for a reply. I waited. I waited some more. By 10am on the 18th still no e-Gift Card and no email reply either! Ugh, I emailed again:

Hi,

I am re-sending the email below because I *still* have not gotten the EGift Card and I never got a reply to my last email about it.

~Angela
[The previous email appeared below]
I finally get a reply at almost 4pm on the 18th:

Dear Angela,

Thank you for your e-mail regarding your E-Gift card. We apologize for any disappointment this may cause.

Per your request, we have resent your E-Gift card and activation instructions to the original e-mail address. Please allow up to 24 hours to be delivered.

If you need further assistance, please reply to this e-mail or call anytime.

Angela, Victoria's Secret values each of our customers and hope you will grant us the opportunity to serve you again in the future. Thank you for contacting Victoria's Secret.

Sincerely,
[Rep Name Omitted]
VictoriasSecret.com Customer Service
As soon as I received the reply, I responded which was about 7:30pm on the 18th:

Hello [Rep Name Omitted] or whoever reads this...

At this point I'm extremely disappointed that I still haven't received the EGift Card.

Can you please copy/paste to me the email address I had it sent to? Perhaps I typed it wrong and this is all my own fault?

It should have gone to [correct email address appeared here]

Thank you,
~Angela
Yeah, I'm getting annoyed and a tad snarky. I've had a different Customer Service Rep reply to each of my emails. I'm convinced none of them read the history. Of course, I get a reply from a different person, this time at nearly 10am today (which is the 19th):

Dear Angela,

Thank you for your e-mail regarding your Egift Card. We regret any inconvenience this matter may have caused.

We have submitted for the Egift Card to be sent to the new email address and it should arrive within 24 hours. We hope this information is useful.

If we can help you further, please reply to this e-mail or call anytime.

Angela, we hope that you will enjoy the products you purchased from Victoria's Secret and look forward to serving you again in the future.

Sincerely,
[Rep Name Omitted]
VictoriasSecret.com Customer Service
Now I'm even more annoyed. She didn't answer my question. So I reply at about 10:30am today.

Thank you, but you did not tell me if I made mistake and the email address of where the egift card have been previously sent to.

Can you please tell me this information?

Thank you,
~Angela

P.S. I haven't gotten it yet. I'll wait the 24 hours but shouldn't have to.
A nice and quick reply that was actually from the same Rep. as the previous reply came in at about 10:45am today which said:

Dear Angela,

Thank you for your e-mail regarding your EGC. We are happy to assist you with your inquiry.

We are showing that we had the old email that may not be forwarding through so we change the email address and we will see if this works. We are not showing any errors. We hope this information is useful.

If we can help you further, please reply to this e-mail or call anytime.

Angela, we thank you for your interest in Victoria's Secret. We hope you enjoy our products and look forward to serving you in the future.

Sincerely,
[Rep Name Omitted]
VictoriasSecret.com Customer Service
Hmmm, okay maybe I did type it in wrong? That doesn't make sense, but alright... Why can't they just tell me the email address I entered originally? I'm getting frustrated again, so I write a short email at 11:29am today:

Hi,

Please tell me what you're saying is the "old" email address. I've asked for this 3 times. Please give me the answer to my question.

~Angela
The same Rep. replied again at 11:34am today:

Dear Angela,

Thank you for your e-mail regarding your EGC. We are happy to assist you with your inquiry.

Please contact the Customer Service department at 1-800-970-1109 for more assistance with your EGC.

If we can help you further, please reply to this e-mail or call anytime.

Angela, please accept our apologies. We take customer service seriously at Victoria's Secret and look forward to serving you again in the future.

Sincerely,
[Rep Name Omitted]
VictoriasSecret.com Customer Service
Fine. I give up. I'll call customer service. (I think it is lame that they say to call and in the next breath say I can email. I don't like calling and wish I could do it all in email.)
So here's how the call went... First, the recording states the call may be recorded for quality assurance. Good! I'll let my frustration show so maybe they'll fix this terrible user experience.
The woman who answered was very nice and polite. Based off the phone number I was calling from she already had some of my info in front of her. (That's always a little creepy to me, but cool at the same time.) I explained to her the situation, making mention of how I was not able to get the email address the E-Gift card was originally sent to. She explained that "for security purposes we can't email that information".
WHAT?! I'm the one who placed the order. I can't get that information in my order history or in the email but I can call and get it? It's easier to fake who you are by calling than to prove you're legit by replying from the expected email account or logging in to the website. In my mind, the phone is less secure, but she gave it to me and it was correct. I complained they should at least have said in the email, "For security purposes" etc. I would have called sooner.
She then proceeds to ask me, "Was this a gift?" I said yes, and explained my reasons for having it sent to my email. She then let me know something I never would have expected. She said that the recipient would have to log in from or create an account with my email address in order to redeem the gift card! WHAT?!!!
It's an E-Gift card, should be as simple as entering in a code at checkout to redeem like any other gift card. Right? Yeah, I would think so too but that's not how they do it.
Over the course of my call I gave the lady an earful I'm sure. All the while she was patient as she could be and said she'd pass my frustrations/suggestions along. I'd suggested that the order history let me see who I was emailing to & their email address. I also told her that it isn't that hard for them to do this, and that I would know because I build websites for a living. I even told her I'm not some idiot off the street who doesn't know how these things should work or how they work, that she could Google my name and find out who I am and that I know what I'm talking about when I make these suggestions.
Sidenote: Yikes, I'm not proud of that attitude and I'll probably never be hired to work at VictoriaSecret.com (they're a ColdFusion site and I'd love to work for them to make their site so much better, but it is more unlikely now than ever -- not just for this call but also because of this blog post. Oh well... back to my story.)
In the end, I asked for a refund and she was able to do that quite quickly. I asked her how I could get a gift card that would be usable online. My options were to buy one online and wait 7 to 10 days or get one in a store. Either is usable online.
I thanked her for putting up with me and apologized, "I'm sorry for taking my frustrations out on you. I know how hard it is to be in Customer Service. I hope I didn't ruin your day." She was polite, but I'm sure she was frustrated dealing with me. I honestly feel bad for that.
In the end they'll still get my money. I'll be placing an order on behalf of the gift recipient later tonight. I just can't and won't likely ever buy an E-Gift card because: A) I never got my email and there's no good reason for why I didn't B) I can't have it sent to myself and then print it out and give it to someone or forward it to a friend's email. That's why I think VictoriasSecret.com's E-Gift cards suck. Hopefully my feedback will be received and they'll improve the process. Not that I'll ever know unless someone tells me, since I've no intention of ever buying an EGC from them again. THE END
Posted by ~Angela | Comments (0) | Add Comment | Permalink
Blue and Gold Banquet 2009
This Saturday was the Blue & Gold Banquet, where Cub Scouts receive the badge that they've been working towards. My son, Gaetano, received his Bear badge!

When the scout receives his badge, their Akela (that's me in my son's case) pins the badge upside down over their left pocket (close to their heart). When the scout does his first good deed he can turn the badge right side up and it can be permanently attached to their uniform.

Gaetano was with us shopping at HEB and a bunch of those yellow coupons you see hanging everywhere had fallen and scattered on the floor. We were busy shopping to notice them, but Gaetano saw them and picked them up and put them all back on the hook.

At first, I thought he'd knocked them down and was just cleaning up after himself. I was ready to scold him for touching them in the first place but he told me they were already on the floor and he was just picking them up. Awwww, he did a good deed! :-) Tonight, I'll have him help me put his patch on his uniform.

The following are some statistics from the back of the program from the Blue & Gold Banquet that I thought you might find interesting. Keep in mind that Gaetano is a Cub Scout, not a Boy Scout. Gaetano is a Bear now, and has Weblos 1 and Weblos 2 to complete before entering the Boy Scouts in the 6th grade. As you read through these facts, keep in mind that with every year that passes in scouting, the next level brings more advanced achievements and greater commitment.
For every 100 boys who join Boy Scouts:
Twelve will have their first contact with a church or synagogue
Five will earn their religious emblem
One will enter the clergy
Eighteen will develop hobbies that last through the merit badge system
One will use his Boy Scout skills to save a life
One will use his Boy Scout skills to save his own life
Seventeen will become Scouting volunteers
Four will become Eagle Scouts
Gaetano tells us that he'd like to go all the way to Eagle Scouts. I would be so proud. As his Akela, I promise to do my best to help him reach his goal.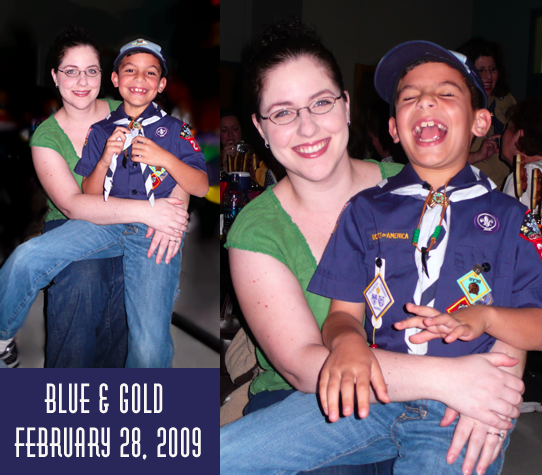 Though Gaetano looks like he's laughing in the photo on the right, he's actually doing his impression of his sister crying like babies do. That's my goofball! I love my Bear cub and look forward to more good times with scouting.

Posted by ~Angela | Comments (1) | Add Comment | Permalink
Gaetano's Allergy to Artificial Color
Back in March 2005 I blogged about discovering my son's allergy to artificial color. It was a brief entry stating I had a suspicion and would be taking him to see an allergist to confirm my suspicions. Today I'd like to finally follow up and get this out there for other parents who may have children with this allergy.

When Gaetano was 4 years old, he'd had a chronic cough for nearly 2 years. He had multiple ear infections as well and the doctor said that if he gets one more ear infection we would need to put tubes in his ears. The poor little guy was constantly congested but I didn't know why. I've been congested most my life, so I figured it may be bad genes, but I hoped to find a different reason.

Gaetano would get a fever and I'd give him Children's Tylenol for it. Most of the time he threw it up right away. Sometimes he'd throw up later. Either way, I'd blame the vomiting on the fever or illness itself.

It was the same way for antibiotics; he would get a pink colored Amoxicillin and he'd throw that up too. Again, I'd blame the illness or fever. He'd get better, but not as quick as I thought he should for being medicated. It almost always felt like illnesses had to run their course and that medicines didn't really help.

In between being sick, when he was more healthy than not, he was still congested and coughed quite frequently. I took him to the doctor to see what was wrong.

The doctor tried to tell me he was asthmatic and gave him Abuterol (which I've since learned contains yellow #6) for his chronic cough. It didn't help. I knew it had to be something else and figured it was something he was allergic to. I didn't know what that allergy might be. Was it the old carpet in our house? Was it all his stuffed animals he'd drooled on for years? Was it some other environmental cause that I didn't know about? I looked for every possible cause I could find -- I didn't want him to be asthmatic and suffer with that all his life.

From time to time, Gaetano would spike a fever and throw up but had no other symptoms that were noticeable. It could have been that he wasn't very talkative being only 4 years old and not having the words to express how he felt. It could be that he really had no other symptoms. I'll never know for sure.

Every illness (for lack of better term) which happened seemed to have a decent explanation of its own. Yet somehow I knew that there had to be some common thread. Maybe it was my maternal instincts, maybe it was my analytical nature at play, or maybe it was neither. It just seemed logical to me that there could be something making him sick and I just didn't know what it was.

I started trying to keep a mental note of what he ate before he threw up to see if maybe it might be something of a gross food combination that would naturally upset anyone's stomach. (You know, like milk and orange juice together.) Sometimes I had to figure out what he'd eaten by what came out of him... I started to notice that every time he puked it was pink.

Looking back through my blog, I see that I never wrote about taking Gaetano to see an allergist. Well, I did that and found that there isn't a prick test for artificial color. He was given a prick test anyway and turned out he wasn't allergic to anything that he was exposed to at home or daycare.

I learned that the only way to test for an allergy to artificial color was to remove it from the diet for 3 full weeks before re-introducing it to the diet. If he gets ill, it is fairly safe to assume that the dye was the cause. You should then wait for the reaction to clear up and then 3 weeks after that you can try introducing the artificial color once again. We did this several times, sometimes without my own knowledge...

Most of our family thought that I was just being a health nut or overprotective, that there's no way that artificial color could possibly make anyone sick. Some thought, "a little won't hurt", while others simply didn't believe it at all.

At the time, I was going through divorce and Ambrogio (my ex-husband) didn't think there was anything wrong with our son. Ambrogio just figured I was trying to be controlling since I was "picky" about Gaetano's diet from the time he started eating solid foods. (I made all his baby food from organic vegetables.)

It wasn't until family members gave Gaetano foods with artificial color without telling me first that they believed me. It's pretty convincing when you give him something with red dye in it and he pukes in your car!

It took a few months to get everyone else who cared for him on board with checking every label. There were many "accidents" and those responsible always said things like, "It wasn't that much.", "I'm sure he'll be fine.", "It wasn't red, it was just yellow #5." It was infuriating at times to say the least.

Months later, I'd finally gotten Gaetano off all artificial color for a full month and his cough was much better. He was generally much better behaved too. We thought that was just because he was getting older but I've since learned that some children react to artificial color with bad behavior (or hyperactivity).

He got sick a few times the year following, and we came to discover that there's only one liquid antibiotic that did not have artificial color in it. One. That's right; just one. (It was an Amoxicillin, but I can't recall exactly what it was called right now.)

The doctor said that since there's only one antibiotic he could have, it was important to keep him healthy since he could build an immunity to it. Though there would be ways to get around that issue, it would be a major hassle he explained. So, I did my best to keep him healthy as I could.

A year later Gaetano was much healthier over all. He wasn't congested anymore and hadn't gotten any more ear infections either. (Yay, no tubes!)

Over the years there have been several slip-ups where he's had artificial color. In kindergarten it was orange iced cookies for Halloween that some parent told him it was okay to eat even though he said he couldn't have it. He trusted them. In first grade, there was a similar instance. There've been plenty of other times where he was given something either accidentally or carelessly over the years.

From time to time we run into people who don't believe his allergy is real. They think I'm nuts. Most people are understanding thank goodness. However every now and then someone will try to tell me that a "little won't hurt" and I just stand my ground. Most of the time saying something like, "Well if you want to clean up his puke then by all means give him a little!" convinces them enough not to give him anything he shouldn't eat.

Gaetano's had a rough time of it in the last couple years because kids at school can be so mean at times. Some have teased him that they have certain candy and he can't have it. For the most part, he handles it pretty well. Sometimes it gets to him and he says to me things like, "Mom, do you hope that I grow out of my allergy some day?" or "Mom, can we just test it and see if my allergy is gone yet?"

To make Gaetano feel better, I try to buy everything red that I can for him to eat that is all natural. (I know he's allergic to the other colors, but red is the one that makes him puke.) I buy all sorts of great treats from Whole Foods for him because I know that shopping there is safe. I've made homemade candy corn, bubble gum and marshmallows for him and they're even better than store bought junk! Luckily there's very little that I can't find an equivalent for, so he doesn't feel left out.

Why am I writing all this after so long? The answer to that is soon to come. (Hang in there; I know this is a long blog post!)

Last night, we were eating at a restaurant and the server offered us some "all natural" black cherry soda. I asked the waiter if he was sure that it was all natural and told him my son is allergic to artificial color. He said it was all natural except that it had sugar in it. I commented to him that sugar is natural, and he said that some people complain because it has sugar in it. That should have been my tip-off that this guy had no clue, but I trusted him.

Half way through drinking the can of soda that the waiter had poured into a glass, Dan started to read the can's label. You can see where this is going... Red #40 was the final ingredient. Dan & I did our best to not make a big deal out of it and let the waiter know.

In short, I didn't like how the waiter handled the situation. I found him rude as soon as he said, "I told my manager and he said it only has a couple of drops of Red #40 in it." I decided against talking to the manager at that time because I didn't want to make a big deal with my son there. (The waiter offered me the chance to speak to him now or I could call him later. For some reason, he insisted that if I was going to talk to him it had to be now, not after our meal. It was very awkward.)

I was as nice as I could be about it, letting him know that I just thought he should know so he didn't tell people it was "all natural" anymore. I told him that I didn't blame him, that I should have checked the label. He didn't seem to believe me. Despite the awkwardness, we ordered dinner and did our best to enjoy the meal.

Gaetano seemed a little concerned that he might get sick. I explained to him that he'd been wanting a test to see if he's still allergic. "Well, this is your chance!", I told him. I explained that if he didn't get sick from it this time, then maybe he's outgrown it.

I wanted to allay his worries and really let it be a true test. I knew that only some red wouldn't necessarily bring on fever and vomiting but I knew it would at least bring on congestion and possibly an upset stomach. I didn't tell Gaetano what I thought might happen.

I really wanted to talk to the manager on the way out (while Dan & Gaetano waited in the car), but I didn't. Having been a restaurant manager myself for some time I was mad that he didn't even bother to stop by the table. I knew that if I spoke to him it was not going to be pleasant. I saw the manager from a distance. He looked like he was a generally grumpy person. It would have been ugly... So we left.

About 45 minutes later I noticed Gaetano didn't look too good. I asked him how he was doing and he replied that his tummy hurts. I asked him when it started hurting and he said it'd been hurting since about five minutes ago.

I did my best to get his mind off of it, making him smile and laugh while being careful not to make him suspicious. He went to bed in a good mood and I hoped for the best.

At 3:45am I woke up with a massive headache. I'd been dreaming that Gaetano was sick and that I'd taken him to the hospital. The doctor said it wasn't his allergy, but it was stress due to the TAKS tests. I got out of bed and went to go check on Gaetano. He was sound asleep and didn't feel feverish. I felt relieved. Maybe he'd be fine. Maybe he's outgrown his allergy?

In the morning, Gaetano woke up and complained of a headache and tummy ache. I checked his sinuses and he seemed to be rather stuffy. Most likely a sinus headache caused by the congestion that ingesting artificial color causes for him. The verdict is that he's not over his allergy.

Gaetano was worried that he'd throw up at school because of his upset stomach. Dan & I tried to put his mind at rest and convince him that he's just worried about the TAKS (Texas Assessment of Knowledge And Skills) test tomorrow. I'm hoping that we were right.

I really hope he feels better. He needs to be feeling good for TAKS tomorrow. Having a bad day prior to the big test is sure to make him tired.

So there you have it; I'm writing this for two reasons. One is because I'm worried about my son since he had a dose of Red #40. The other reason is because I know that by sharing my story here on my blog it'll help other parents.

If you found this info helpful, or have a story of your own to share, please leave a comment. Thanks!
Posted by ~Angela | Comments (2) | Add Comment | Permalink