Look Ma, I'm famous!
The following are images from the 2005 Macromedia MAX conference ad campaign. There is also a PDF of the full page advertisement (432k) that was featured in the MX Developer's Journal and ColdFusion Developer's Journal. If you find any ads that I'm featured in that are not shown here, please let me know! Thanks, ~Angela
Email Blast sent on July 18, 2005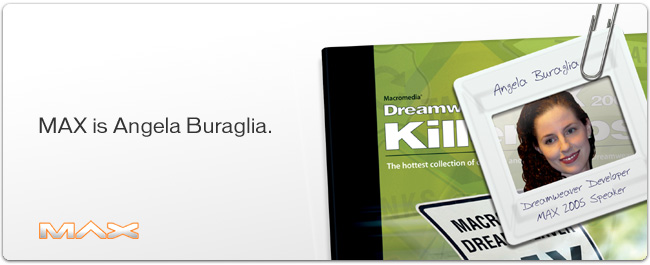 Angela Buraglia is a web developer and work-from-home mom who somehow finds time to co-author technical books, including her latest, Dreamweaver MX 2004 Killer Tips. She is one of thousands of leading designers and developers who will gather at MAX 2005 this October to learn new skills, explore emerging technologies, share techniques with peers, and put exciting new ideas in motion.
Learn
Choose from over 90 different hands-on and workshop sessions—in five tracks—to create a schedule to meet your specific needs. Hear Angela Buraglia and other industry leaders speak on best practices and coming trends and technologies.
Connect
Exchange ideas with other designers and developers at networking sessions. Attend "birds-of-a-feather" sessions to connect with like-minded peers.
Register Now
MAX 2005 happens October 16-19 in Anaheim , California . Save $200 and get the best session selection with early-bird registration (ends August 26).
Various Image Ads