Blue and Gold Banquet 2009
This Saturday was the Blue & Gold Banquet, where Cub Scouts receive the badge that they've been working towards. My son, Gaetano, received his Bear badge!

When the scout receives his badge, their Akela (that's me in my son's case) pins the badge upside down over their left pocket (close to their heart). When the scout does his first good deed he can turn the badge right side up and it can be permanently attached to their uniform.

Gaetano was with us shopping at HEB and a bunch of those yellow coupons you see hanging everywhere had fallen and scattered on the floor. We were busy shopping to notice them, but Gaetano saw them and picked them up and put them all back on the hook.

At first, I thought he'd knocked them down and was just cleaning up after himself. I was ready to scold him for touching them in the first place but he told me they were already on the floor and he was just picking them up. Awwww, he did a good deed! :-) Tonight, I'll have him help me put his patch on his uniform.

The following are some statistics from the back of the program from the Blue & Gold Banquet that I thought you might find interesting. Keep in mind that Gaetano is a Cub Scout, not a Boy Scout. Gaetano is a Bear now, and has Weblos 1 and Weblos 2 to complete before entering the Boy Scouts in the 6th grade. As you read through these facts, keep in mind that with every year that passes in scouting, the next level brings more advanced achievements and greater commitment.
For every 100 boys who join Boy Scouts:
Twelve will have their first contact with a church or synagogue
Five will earn their religious emblem
One will enter the clergy
Eighteen will develop hobbies that last through the merit badge system
One will use his Boy Scout skills to save a life
One will use his Boy Scout skills to save his own life
Seventeen will become Scouting volunteers
Four will become Eagle Scouts
Gaetano tells us that he'd like to go all the way to Eagle Scouts. I would be so proud. As his Akela, I promise to do my best to help him reach his goal.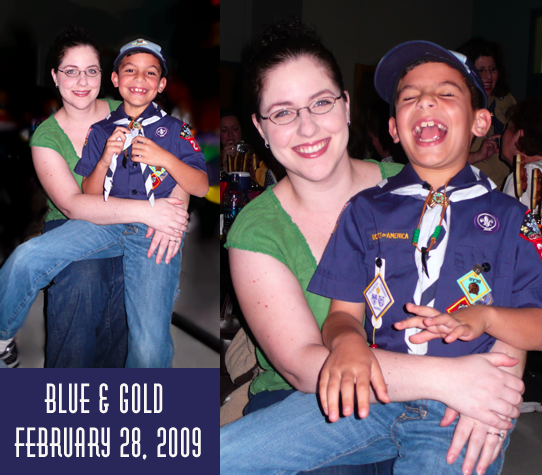 Though Gaetano looks like he's laughing in the photo on the right, he's actually doing his impression of his sister crying like babies do. That's my goofball! I love my Bear cub and look forward to more good times with scouting.

Posted by ~Angela | Comments (1) | Add Comment | Permalink